Low Vision Clinic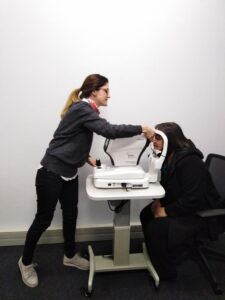 The CTSB Low Vision Clinic offers a comprehensive low vision assessment ensuring that our clients receive the best service and care with access to an Optometrist, Occupational Therapist, O&M Practitioner and a Social Worker.
Open on Mondays only, by appointment
Consultation: R100
Low assistive devices available to purchase
Contact: Low Vision lowvision@ctsb.org.za
Showroom

Visit our showroom at our campus in Salt River, Cape Town.
Our handcrafted range of cane furniture and crafts are available for your viewing pleasure. Together with our knowledgeable sales team and hands on approach you are sure to find exactly what you are looking for. All items crafted by our talented Blind and Visually Impaired artisans.
Monday to Thursday: 08h00 - 16h00
Friday: 08h00 - 14h00

Excluding public holidays
Training Centre

Training, Hiring or Conference information contact:
Sandra Dreyer at: 021 448 4302 / sandra@ctsb.org.za
Our Training Centre situated in Salt River has equipped facilities together with two computer / media rooms. We accommodate up to 60 learners daily. The Training Centre is available for hire. Suitable seating and presentation facilities make it conducive for presentations and conferences.
Venue Hire
Why not consider CTSB for your next function? Our versatile venue hire services offer everything you need, from seating to equipment.
We are centrally located in Salt River.
We have three venues available for hire namely:
Bowen Room
Ground level, air-conditioned, seats up to 50 people.
Includes:
Tables
Chairs
Projection Screen
Price: R250 per hour, R1 000 per day (Monday to Friday)
Albertyn Room
First floor, air-conditioned, seats up to 100 people
Includes:
Tables
Chairs
Projection Screen
Audio Equipment
Data Projector
Computer
Price: R280 per hour, R1 500 per day (Monday to Friday)
To enquire or book, please contact Elize Marais on 021 448 4302.
Free wifi offered to patrons supporting the showroom and those renting venues.